In an effort to filter out fraudulent reviews, Yelp has developed an automated software that recommends certain reviews over others which they think will be most beneficial to the Yelp community.
Quick Case Study
Let's look at how this can help or hurt your practice.
Here's an example of a medical practice with 24 total reviews (and is currently an advertiser with Yelp).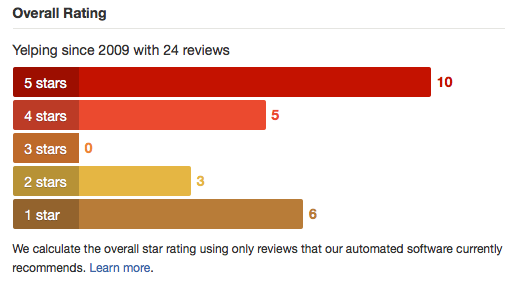 Using these reviews to create the practice star rating, they are currently at 3.5 stars (3.4167 specifically).
This particular practice has 14 reviews that are "not recommended" for a total of 38 reviews on Yelp. That is 36.8% of all reviews not shown on their Yelp page. Why would Yelp hide all of these positive reviews.
Are they all positive?
No. In this case their "not recommended reviews" are;
What would their star rating look like if these were included?
Their rating would be a 3.3824 and still sit at the 3.5 star rating they currently have.
Yelp is filtering out some reviews but the overall score remains the same.
Yelp's challenge
The reason why this filtering system is necessary is because they have to build measures so practices cannot game the system and generate fake reviews. From Yelp's perspective, a user that has had a Yelp account for a long time and has reviewed multiple businesses is more reliable than someone who writes a 5-star review and has no profile or has not reviewed other businesses on Yelp. This is the only mechanism Yelp has for determining what is a valid review. Of course some valid reviews get lost in this process but that is something that has to be managed rather than a cause of frustration.
I have so many negative reviews!
If your practice has an overwhelmingly majority of negative reviews (and you're not alone) then you're going to have a longer road than most if you want to do something about it. And you can do something about it but you must have patience, focus, and a plan to move the needle in your direction.
Do I have to advertise to stop Yelp from filtering my reviews?
Absolutely not. Research conducted in 2015 (Fake It Till You Make It: Reputation, Competition, and Yelp Review Fraud) indicated no correlation with filtered reviews in accounts that advertise versus the filtered reviews in accounts that do not advertise.
Do not leave your positive reviews to chance – Yelp is not going away
The perception that Yelp is somehow selecting your practice out because you don't advertise with them is likely caused by the emotional response and frustration with the feeling that you are powerless. That is why we created Patient Promoter—to increase your power and leverage in taking charge of managing your reputation and not leaving these star ratings to chance.
The fact is that Doing Nothing is Not a Strategy. People who have a positive experience are far less likely to leave a review than those who have had a negative experience. If you don't put a process in place that can encourage the generation of positive reviews then you are putting your practice in the hands of those patients who may have had a bad experience with you for whatever reason.
Yelp is used more often than other sites to find a doctor and is a more trusted source than any other site. Couple that with the data that 6 out of 10 patients use online reviews before selecting a doctor and you can start seeing that reviews on Yelp can make or break your new patient volume for your practice.
Start taking charge today.
Give us a call at 844-463-8663
Links
Does Yelp recommend every review
http://www.yelp-support.com/article/Does-Yelp-recommend-every-review?l=en_US
On the Washington Post a few years ago; Why does Yelp hide reviews?
https://www.washingtonpost.com/video/thefold/why-does-yelp-hide-reviews/2013/05/21/c860baa0-c199-11e2-8bd8-2788030e6b44_video.html
[fusion_builder_container hundred_percent="yes" overflow="visible"][fusion_builder_row][fusion_builder_column type="1_1″ background_position="left top" background_color="" border_size="" border_color="" border_style="solid" spacing="yes" background_image="" background_repeat="no-repeat" padding="" margin_top="0px" margin_bottom="0px" class="" id="" animation_type="" animation_speed="0.3″ animation_direction="left" hide_on_mobile="no" center_content="no" min_height="none"][fusion_youtube id="https://www.youtube.com/watch?v=PniMEnM89iY" width="600″ height="350″ autoplay="no" api_params="" class=""/][/fusion_builder_column][/fusion_builder_row][/fusion_builder_container]